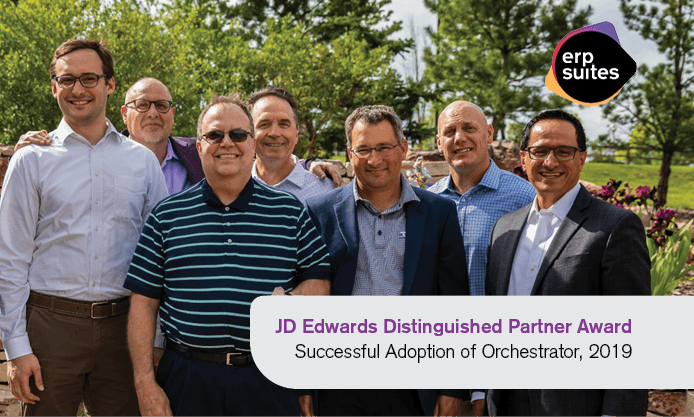 ERP Suites awarded for successful JDE Orchestrator solutions
ERP Suites earned a Distinguished Partner Award for Successful Adoption of Orchestrator at last week's JD Edwards Summit. JDE Orchestrator is a tool that enables users to automate tasks in JDE EnterpriseOne and take advantage of IoT and other digital technologies. In turn, this award celebrated ERP Suites' use of JDE Orchestrator to help customers integrate technology and gain operational efficiency.
Driving next-generation innovation with JDE Orchestrator
In 2018, ERP Suites earned three Distinguished Partner Awards for their work educating JDE users about the innovative potential of Orchestrator. This year, they offered concrete proof. The winning entry included multiple examples of orchestrations that helped customers improve business processes. Specifically, orchestrations built for The Ford Meter Box Company allowed salespeople to do JDE Address Book lookup and edits in the field. While at Dymax Corporation, orchestrations enabled salespeople to retrieve customer order information on the spot. Both improved responsiveness and overall service.
ERP Suites' ongoing partnership with Stanley Black and Decker continues to drive next-generation innovation and offered even more examples of success. The team used JDE Orchestrator to sync Stanley's shop floor data collectors with EnterpriseOne to monitor production and report in real-time. They also set up a process to automatically transfer inventory from weighpack to shipment locations. Last, ERP Suites automated GL entry by integrating Stanley's MegaBot and EnterpriseOne through orchestration.
Leading customers on a journey to a modern intelligent ERP
The theme of Summit 2019 was "Journey to a Modern and Intelligent ERP." Or, as Oracle Senior Vice President Lyle Ekdahl put it, "getting hands off the keyboard and moving around with ERP." He could have easily been talking about ERP Suites' newest product innovation, Scanability. The groundbreaking business solution was introduced to the JDE community in April at Collaborate 19.
ERP Suites Scanability is a barcode scanning solution that uses JDE Orchestrator to code business processes into orchestrations. It simplifies ERP integration. Compared with competitive offerings, Scanability is safe and swift to implement. Not to mention cost-effective. Since the product isn't tied to a particular mobile data collector, customers are free to choose the most appropriate and affordable model.
"The benefits of barcode scanning are well known. So are the obstacles. Cost prevents our customers from taking full advantage of the technology. Some are not able to invest at all. We were determined to change that and saw orchestration was the key, said ERP Suites Director of Advisory Practice, Eric Poff."
Scanability is helping JDE users take a significant step toward intelligent ERP. In a presentation to the Tri-State Regional User Group in Cincinnati, Ohio, Director of Corporate IT, Michael Fisher, shared his company's journey. "MEAA (Mitsubishi Automotive Electric America) had limited handheld scanners in use. But they were never where we needed them. The business demanded fixed scanners at every checkpoint to work with our current devices. Yet they had to beat the current price. Scanability delivered on all points."
Find more ways ERP Suites is using JDE Orchestrator to solve business problems at erpsuites.com.
To learn more about JD Edwards Orchestrator, visit oracle.com.