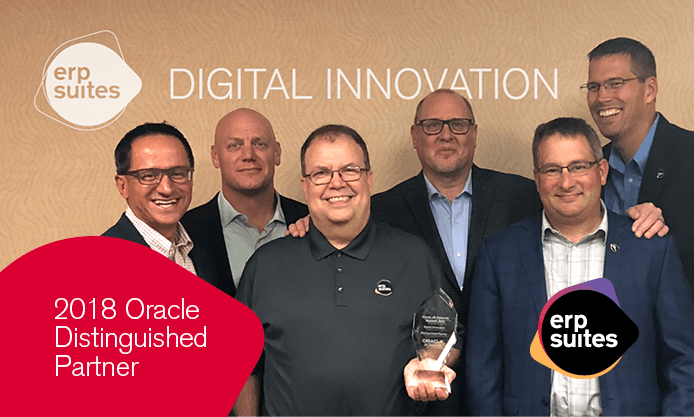 ERP Suites awarded for JD Edwards innovation with orchestration
ERP Suites, a comprehensive ERP solutions company, earned three Distinguished Partner Awards at this year's JD Edwards INFOCUS conference. The unprecedented accomplishment recognizes the company's role in adapting emerging technologies through orchestration to advance JD Edwards EnterpriseOne.
Digital transformation targeting real business needs
Under the theme of digital innovation, ERP Suites' award-winning entries highlighted work with Stanley Black and Decker, Inc. (Stanley). Their robotic process automation (RPA) solution helped Stanley improve data entry between two separate ERP systems. It demonstrated a keen understanding of JD Edwards Orchestrator Studio and the IBM Financial robot. The end result was improved accuracy and workforce efficiency.
Education helping business leaders realize orchestration
Oracle JD Edwards Distinguished Partners are held up for their customer focus as well as technical expertise. They "serve as consultants who understand the customer's language and needs" as noted in the award qualifications. For proof of ERP Suites commitment to the needs of the ERP community, consider Realize: Orchestration.
In the spring of 2018, the company observed a growing trend among their customer base. "Business leaders were feeling pressure to make digital transformation happen," explained ERP Suites Advisory Practice member Eric Poff. "But they didn't know where to start. They didn't know exactly what it meant or how to translate it to their industry. The Realize: Orchestration workshop was designed to fill the gap."
ERP Suites' Realize: Orchestration positions JD Edwards at the core of a vibrant digital ecosystem. "Once properly architected, customers can access a growing number of digital transformation technologies. Orchestration is only the beginning," said Poff. "The key is determining which innovation will have the greatest net effect." This is where Realize: Orchestration differs from technical how-tos. Poff leads attendees through realistic case studies and introduces typically analytical minds to design thinking. Participants talk about identifying business needs and tying solutions to the objectives laid out by executive leadership.
"We exist to help customers evolve with IT change and its impact on business," said Mike Moorman, ERP Suites founder and CEO. "Our services continue to evolve with them. We are proud to be recognized for both—digital innovation and customer engagement."
Need help delivering business value through orchestration? Contact us to set up a virtual whiteboard session with an ERP Suites Advisory Practice consultant.