ERP Suites Clarity: Historical Utilization
In our last blog, we introduced Clarity's Application Management feature. Let's dig deeper now into historical graphic data. Clarity not only provides average or maximum application server and JAS server statistics, it can pull data from yesterday, last week, or even the entire month. In fact, Clarity retains data for 45-60 days so if you want to pull data from a custom date range you absolutely can. Simply click on the dropdown and select the data set you want to see. You can also toggle between "Average" and "Max" results in that date range as you see below: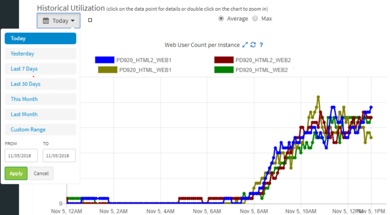 As CNCs at ERP Suites, we had the opportunity to guide the development of Clarity. The features, the data, the interface—all were designed to make your job as a CNC easier. That's why you'll find information about the application and JAS servers in the Historical Utilization section. We wanted to give you a straightforward look at how your system has been running over the past 24 hours or the past month. And for application instances, we gather useful information such as:
Users Per Call Object Kernel
Sever Memory Used per Instance
Server CPU Used per Instance
Batch jobs Processing or Waiting
Outstanding Requests per Enterprise Server
Running Call Object Kernels
Sockets in Use
Web Server Activity
Why is this helpful? Let's say there is an issue with one of your enterprise servers. Maybe your jobs are processing slower or you are wondering, "Why is my system so slow?" With Clarity, you can track back to the last 7 days and see what the data tells you.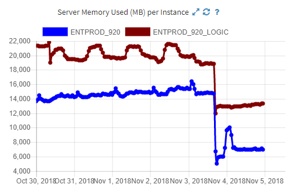 For example, this line graph shows us that server memory for two production application servers has been running high for more than half the week. Moving into the weekend, when a full restart of the EnterpriseOne system occurred, memory dropped quite a bit for both applications servers.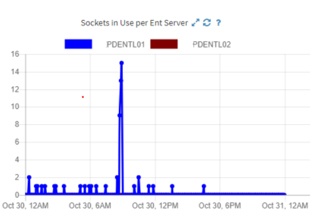 In the next graph you can see that on October 30, between 6 a.m. and noon, up to 16 server sockets were in use. We like to keep this number low, so it could mean there is a problem. But if you weren't sure what these metrics were showing, you could click the "?" symbol to get a short description.
We also like to keep track of our JAS servers and how they are processing. There are several graphs in Historical Utilization that help including:
Web User Count per Instance
Java Heap Used
Idle Time
Open Applications per Instance
Average Call Object Time per Instance
Call Object Errors
Say we are looking at the "Sockets in Use per Ent Server" example again. We know we have an abnormal number of sockets in use. If we look at Call Object Errors on that same day, we see there was also a very high number or errors at the same time.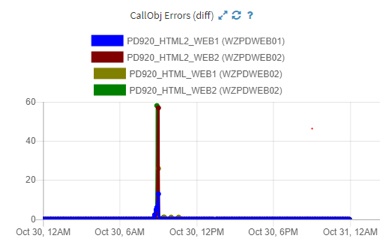 Historical Utilization data helps us easily narrow down when an event occurred and it points to where we need to go to resolve the issue. We then use Clarity's log parser to track down logs in that exact timeframe. If we do not already have an alert set up for the issue, we can add a custom alert here. The next time it occurs, Clarity will notify us.
In our next blog, we will explore how Clarity's latest feature helps strengthen JDE security.
Click here to learn more about using ERP Suites Clarity. New to Clarity and want to see more? Contact us to see a demo.