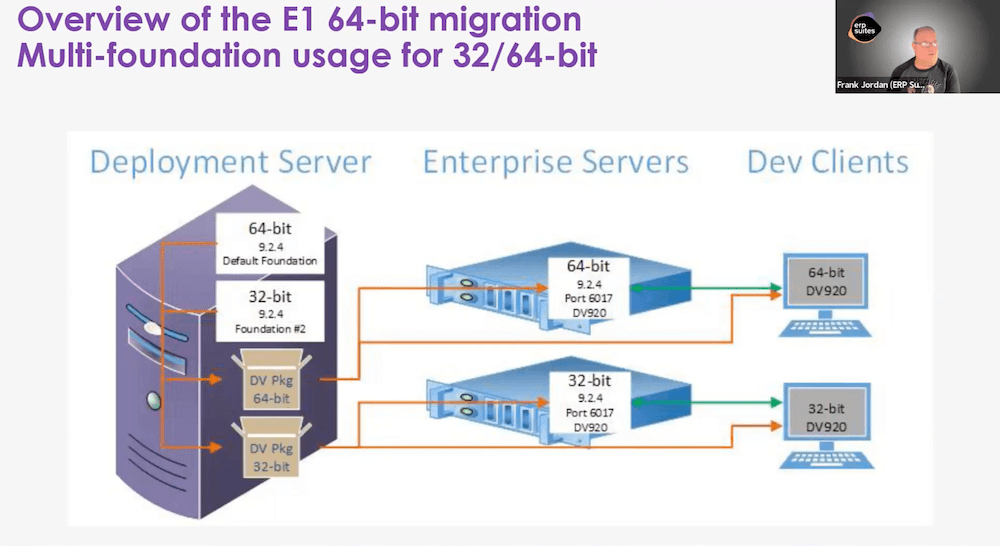 How JDE Architecture Affects 64-Bit Upgrade Costs
JD Edwards EnterpriseOne has historically been a 32-bit C Business Function. Many components, like operating systems and web servers, have been 64-bit or greater for over a decade. Upgrading JD Edwards to 64-bit alters the function code to support larger data type sizes and eliminates OS overhead on Windows, Linux, and Unix platforms. Once the proper JDE Electronic Software Updates (ESU's) are in place there is a code converter that runs automatically for 64-bit conversion during a full package build. Your JD Edwards application and architecture will determine many of the costs associated with upgrading to 64-bit.
Why go 64-bit?
Oracle did not force everyone to migrate to 64-bit. Giving customers the choice made migrations seamless by allowing for staged rollouts. You could get comfortable before enabling it for your enterprise server and development client. When you do migrate, you maximize the current architecture. Future-proof JDE investment by avoiding hardware and software obsolescence. You also continue to enable future product innovation. Lastly, not having to do 32-bit translations provides nice performance improvements that are noticeable.
Financial
JDE E1 relies on 3rd party components that may only provide limited 32-bit support. With 64-bit processing, you can avoid the risk of facing hardware and software obsolescence.
Performance
Oracle testing of 64-bit versus 32-bit showed improved interactive response time and batch processing runtimes. Plus, applications consumed fewer CPU cycles.
Options
The future of business operations depends upon a modern ERP. Rest assured, a 64-bit JDE system will support continuous product innovations to leverage automation, machine learning, cloud services, and more. And we don't see this moving to 128-bit anytime soon so this is an investment that will last.
What is Changed to 64-bit?
A lot of the infrastructure has already been on 64-bit for years. This includes:
Operating Systems – Windows x64, Linux, Unix, IBMi (128 bit).
Databases – Oracle, SQL Server, DB2/400, DB2/UDB
Java 1.8
WebLogic and WebSphere instances – AIS, HTML, BSSV, OVR & Transaction server
The JDE 9.2 apps where the migration really occurs are:
Deployment Server (Tools 9.2.4.x and above)
Enterprise Server(s)
Development Clients
C Business Functions
Change Assistant JRE
64-bit Migration Tips
If you have 9.2 Update 4 or higher with current tools and infrastructure, the migration is straightforward. The scope of time and effort increases the older your E1 9.2 configuration is. ERP Suites CNC, Frank Jordan, explains the tips he learned over the years so you can have a better idea of the scope of your JDE 64-bit migration.
If you have questions about your migration path, contact us through our Upgrade Assessment. We will be happy to discuss your project and determine if an assessment is right for you.