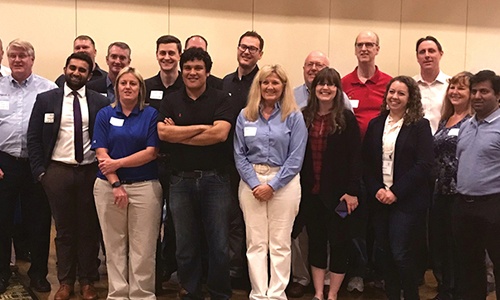 Oracle user groups — a platform for digital innovation
"You make it happen."
With these four simple words, Oracle JD Edwards kicked off Collaborate 18, their technology and application forum, and set the tone for a year of digital discovery. Whether they inspired you, pushed you or sent you into a panic attack may depend on one critical component—support.
When "you" feels singular, there is pressure to know it all. And at the rapid pace of transformation that isn't realistic. But when "you" becomes plural, challenges can be met. Conferences are one way to tap into the collective JD Edwards brain trust. Quest Oracle Community user groups are another.
This fall brings many opportunities to learn from and network with companies who are reaching transformation goals. Consider one of these user group events or find a user group in your region.


PackerLand User Group
Thursday, October 18, 2018
11:30 a.m.–5 p.m.
Holiday Inn Fond Du Lac
625 West Rolling Meadows Drive, Fond du Lac, WI 54937
Register


Tri-State (KY-OH-IN) Regional User Group
Friday, October 19, 2018
8:30 a.m.–4 p.m.
Hollywood Casino & Hotel Lawrenceburg
777 Hollywood Boulevard, Lawrenceburg, IN 47025
Register


Greater Lancaster (PA) Regional JD Edwards User Group
Tuesday, October 30, 2018
8 a.m.–4:30 p.m.
The Lancaster Barnstormers Clipper Stadium
650 North Prince Street, Lancaster, PA 17603
Register


New England Joint Oracle User Group
Thursday, November 8, 2018
7:30 a.m.–4:30 p.m.
Gillette Stadium
1 Patriot Place, Foxborough, MA 02035
Register
---
ERP Suites, a comprehensive ERP solutions company, earned three Distinguished Partner Awards at this year's JD Edwards INFOCUS conference. Register for the Tri-State (KY-OH-IN) Regional User Group event to hear a reprise of their INFOCUS 18 presentation, "Smart Factory (IoT) and Warehouse Dashboards can be simplified using UX1, CAFE1 and Composer pages." The demo features use cases from one of manufacturing's leading global organizations.

Packerland and New England event attendees have the chance to hear "Realize: Orchestration." This popular ERP Suites workshop launched in May to help leaders discover practical digital transformation solutions for business problems. It includes an overview of mobility, automation and IoT solutions.